Physical Infrastructure Facilities:
1. The total Institutional area is 1.86 Acres in the name of Dr.K.LEELA DEVY EDUCATIONAL SOCIETY on ownership basis.
2. Pucca Building with total Building Area of 2537.09 sq.mts.
3. Spacious Office Room with separate Principal chamber is available.
4. Two Separate Waiting Rooms are available.
5. S.U.P.W & Work Experience Room and Music/Craft/Arts Room are available.
6. Spacious Faculty room with facilities is made available.
7. Four Spacious Class Rooms measuring 600 sft with Furniture are provided.
8. Spacious Laboratory Rooms measuring 600 sft with Latest equipment is made available.
9. Library & Reading Room measuring 600 sft with Furniture and Latest Reference Books, Subject Books, Educational Journals, Encyclopedia & New Papers are available.
10. Science Laboratory- separate Physical Science & Biological Science Laboratory are available.
11. Psychology Laboratory. Language Laboratory & Computer Lab are available.
12. Social Studies Laboratory, Education Technology & Media Laboratories are available.
13. Activity room (Multipurpose Hall) measuring 1000 sft and Learning resource center (Seminar Hall) measuring 1200 sft are available.
14. All Rooms are well furnished with Furniture.
15. The Furniture available includes 55 Dual Desks with Seating Capacity of 4, 75 Long Benches with Seating Capacity of 4, 25 Tables, 45 Chairs, 30 Stools, 2 Almirahs & 6 Racks.
16. Teaching aids such, as Audio-Visual aids are available.
17. Dinning Hall, Sports Room and Storeroom are available.
18. The playground about 60,000 sft is available.

Instructional Facility: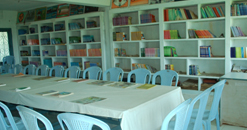 Library & Reading Room
:
The total number of books in library are - 3019 out of which Reference Books are 1778 and Subject Books are 1241. The total number of Educational Journals are 10. The total number of Encyclopedias are 2. Six New Papers are available 3 in English and 3in Telugu.
Psychology Lab
Equipped with a Brain Model, different types of questionnaire, sheets & cards different types of apparatus like Wooden screen& dynametre and Photograph's of eminent psychologists. Total 36 items are available.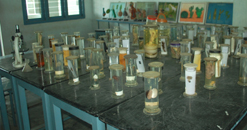 Science Lab
Equipped with 13 different types of MathematicsCharts, 51 varieties of Physics apparatus in Variable number, 41 types of various chemical reagents in different quantities, 10 varieties of Glass apparatus in Variable number. 25 different types of Physical Sciences Charts
Biology Lab
Equipped with 21-Slides, 43-Spoters, 7-Microscopes, 11-Models, 29- Charts, & 10-Small Charts..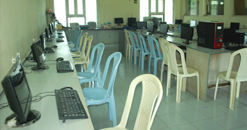 Computer Lab
The total number of computers available are 24, Printers-2, Head phones-2, Speakers-4 and with internet facility.
Language Lab
Equipped with English Grammar & Telugu Grammar Books Audio Cassettes, CD ROMs & different types of language Charts & Other materials..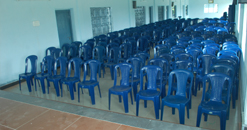 Education Technology & Media Lab
Equipped with 10 different types of equipment namely Television, D.V.D Player, Projectors, Tape Recorder and Audio Cassettes & CD ROMs etc...
Social Studies Lab
Equipped with Atlas, Globes (Telugu & English), different types of Empires, Political & Outline Maps & Planets Systems Charts etc..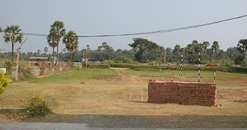 Games & Sports
Equipped with 14 different play sets- Shuttle Bats, Cricket Bats, Volley Balls, Basket Balls etc...
Music/Craft/Arts
Equipped with Casio, Guitar., Drums. Tabala etc and Sewing machine.
S.U.P.W & Work Exprience
Equipped with 5 different varieties of Tools in multiple numbers.